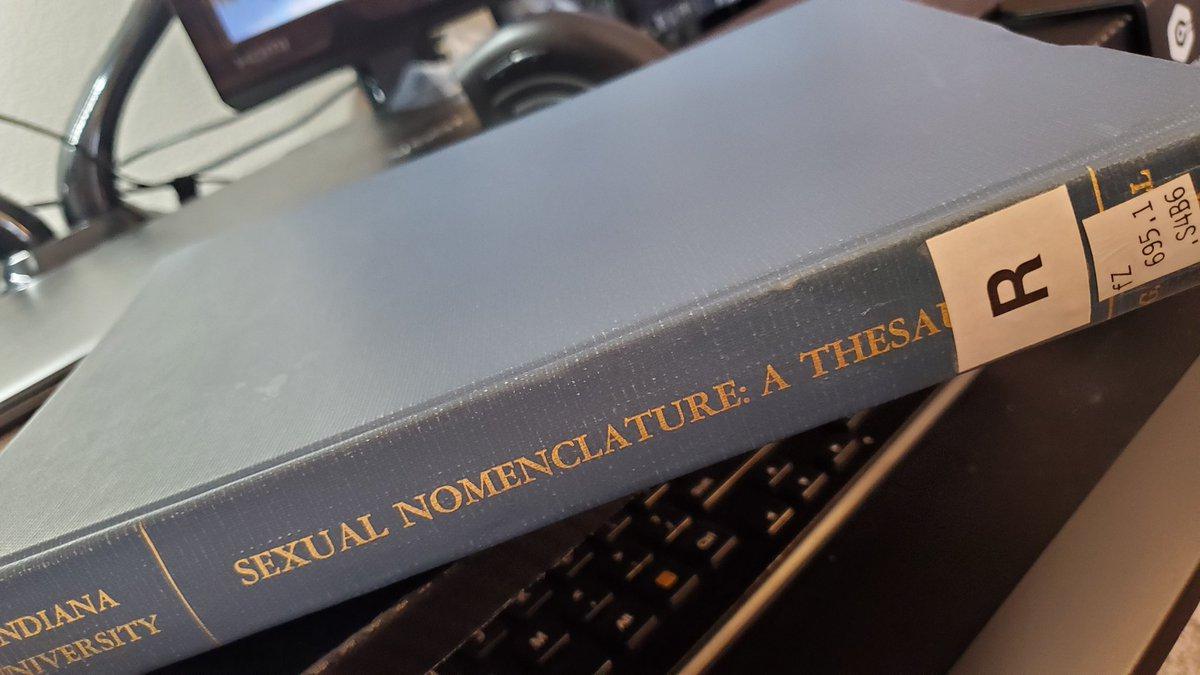 (cover image is of SNT's spine, which reads Sexual Nomenclature: A Thesaurus. Copyright is held by the Kinsey Institute Library and Special Collections. )
Foreword
As part of the MLIS degree, Indiana University Bloomington requires that all students do an internship. I chose to do mine at my place of employment, the Kinsey Institute Library and Special Collections.
Internships, especially unpaid ones, have a bit of a history. First, they emerged from the medical field in the 1800s and then by the the 1930s they began to be adopted by state and national government administration until they finally made their way into service and socially-oriented fields such as teaching, social work, psychology and—you guessed it—librarianship.1
If, you were to look at the professional literature as a student, you'd be surprised that there's not much out there. Literature on GLAM (galleries, archives, libraries, museums) internships are largely just form of practical guides. There are no formal professional standards for internships and guidelines from our professional orgs are often limited or outdated. As I am an archiving student, I looked to the The Society of American Archivists website. The SAA only offers a broad-brush recommendations derived from a 2008 National Council on Public History Curriculum and Training Committee white paper. Despite their recommendation that "graduate internships without any form of compensation should be rare to avoid devaluing the professional nature of archival work," unpaid internships are still common and were promoted by SAA forums until very recently2.
My own internship is unpaid: that's not the fault of the Kinsey Institute & I was aware of this going into it, but it is a reflection of the fact that I don't have the time or space as a grad student to also work a another part time job in addition to my current 29 hours of work, graduate school, and trying to have at least a minimum of 3-4 hours a week for mental health and social time.
It's also worth recognizing that I recognize that it's a privilege that I'm actually able to afford do this internship–I am lucky that IUB and the KI were willing to be flexible with me, but the expectation that unpaid internships should be the norm I is very rapidly deteoriating our professions and GLAM as a whole. I highly recommend reading Jennifer Vinopal's THE QUEST FOR DIVERSITY IN LIBRARY STAFFING: FROM AWARENESS TO ACTION and April Hathcock's WHITE LIBRARIANSHIP IN BLACKFACE: DIVERSITY INITIATIVES IN LIS
Broadly, however, I am doing a very specialized project–the original creators of this work were funded $47,000 by the US Government's National Institute of Mental Health (about $200,000 in today's money) to do their work. 3
Me, Myself and My Internship Project
The school I am obtaining my MLIS degree from, Indiana University Bloomington requires 120 hours of on-site of internship work—which is nearly the top of the list nationwide for required hours. Much of this information is derived from a forthcoming article by Marika Cifor and I.4
I am required to do this blog post, as well as 12 other entries throughout the semester. I am also required to do several surveys, document a couple of meetings with my supervisor, and put together a presentation at the end of the semester. As I will be writing all of this out anyways, I decided to write a paper. So this series will be putting this paper together. I intend to position it at the intersections of #critcat and work of Julia Bullard, Melissa Adler, and Donna Drucker (and others!) as I work through the project.
What's the project, you ask?
For my internship I have requested to do a special project on top of my additional work duties at the Kinsey Institute Library and Special Collections. Specifically, I will be reviewing, updating, and revising the Library's controlled vocabulary Sexual Nomenclature: A Thesaurus, which is an ANSI-standard thesaurus developed in 1976 by JoAnn Brooks and Helen C. Hofer, to more modern terminology. The final version will also include additional art, psychology, and other terms as needed or recommended by the Library's Director, Liana Zhou.
IUB Internship Goals Prompt
So that brings us to these prompts, given to me by IUB.
They ask me to "provide at least one sentence describing what you want to accomplish in your internship" in each category below, so:
Personal Goal: Is there something (e.g., procrastinate less, feel more confident in yourself, trying something new) you hope to develop or learn about yourself?
Lordy, it would be great to procrastinate less. It's not even that I procrastinate a lot, I just procrastinate in opposite directions from what I should be working on at the moment. For example, this blog should have taken 15-30 minutes to write, but I had to do a bunch of stuff with my website first…of course.
Professional goal: What work skill or knowledge (e.g., speaking publicly, being organized, communicating more clearly) do you want to work on this semester?
I chose this project largely as there is an expressed need—there are a lot of outdated terms, but also because there is a lot of related research that I want to do into the KI's classification and organization of knowledge. I hope that the research I do now will contribute to that research. I want to make more of an effort to do more low-key professional writing this semester in order to help build up more articles. That is partially what the intention is here!
Career Goal: What skill or knowledge (e.g., programming, cataloging, processing) that will help you in your chosen field do you want to develop this semester?
This internship project holds a great deal of interest for me, as a student who is interested in Archives/Archival Studies, Metadata, and Digital Humanities. Indeed, I will be combining all three of them, as well as my own background and research into sexuality, obscenity, and nomenclature. Not only will it (hopefully) be useful for the KI, in the future it will hopefully contribute to Indiana University as a whole. Finally, it seems especially appropriate to me to be able to give back to the institution that helped support me and helped me grow so much as a scholar, archivist, and librarian.
Next blog: lots and lots of history coming at you.
p.s. Here's a sneak peek at what Sexual Nomenclature: A Thesaurus looks like on the inside–500 pages of this (so exciting! surely, I'm the only one excited here)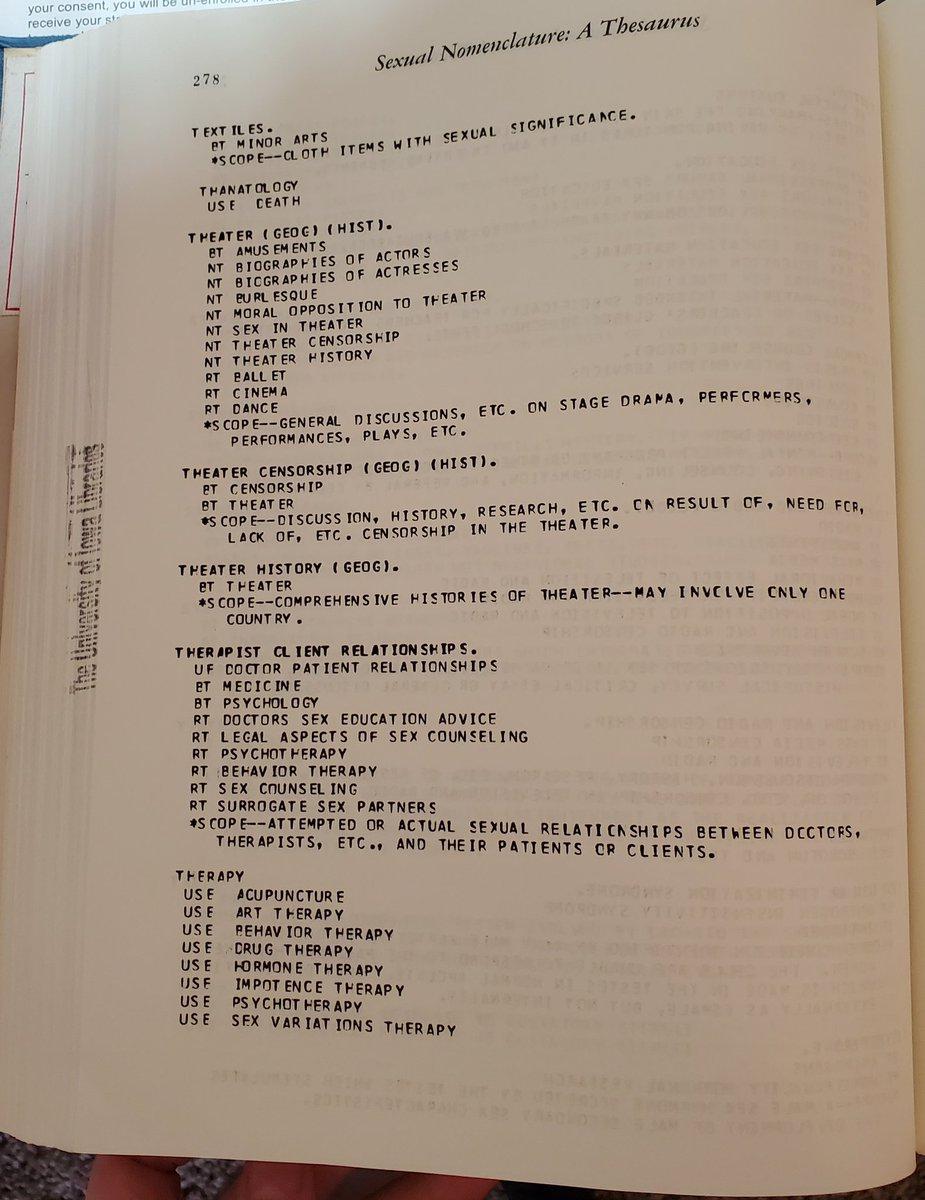 One of the pages of SNT. Copyright is held by the Kinsey Institute Library and Special Collections.