Cribbing Words
As I discussed in the last post, as part of my internship I asked various people Kinsey Institute in March about what gaps they had noticed needed fixing in the collection. After a discussion with Director Zhou, we decided on adding around 20-30 new terms to support the collection and the changes since the last revision.
After some discussion and review, the final addition proposals ended up coming in 4 main categories:
Art
This category of proposals came largely from the Getty Art and Architecture Linked Data Vocabulary, and focused on terms for artworks and objects not currently present. My main proposals were the addition of 'Derivative Objects' (see the digital section below) and 'Ethnographic' and 'Archaeological' objects, the key distinguisher of which is whether or not the culture & peoples of the object are known to KILIB/the cataloger.
Digital Media
This category of proposals came largely from the Getty Art and Architecture Linked Data Vocabulary, and focused on terms for digitized and internet-based media (this was VERY fun).
I found a few ways to bridge current Kinsey Collection terms to the new terms being proposed, which contributes towards stability and use, I hope!
Film
This category consisted largely of genre terms for film and proved harder than I thought!
The categories I proposed came largely from LCGFT:
Motion Pictures
NT Comedy Films
NT Sex Comedy Films
NT Erotic Films
NT Exploitation Films
NT Nonfiction Films
Psychology
This category focused on the addition of DSM-5 terminology, especially ones that would be useful to our scientific colleagues. Director Zhou especially recommended that we consider the importance of autism, depression, and other categories LCSH also neglects.
After reviewing the DSM-5 I proposed that we add the following:
NT Neurodevelopmental disorders
NT Autism Spectrum
NT Learning Disorders
NT Gender dysphoria
BT Psychology
OT Gender role identification problems
And offered other relevant DSM terms such as the Paraphilic Disorders category.
A Map Ahead
A final thing that was requested if there was time was to consider if there were any supplemental thesauri or terms that would be useful. These are the terms that determine what terms go into the historical 'May Subdv. Time' or geographical 'May Subdv. Geo' fields.
This request confused me at first but after seeing that the original SNT catalogers were limited to these time periods and a vocabulary from 1975(!):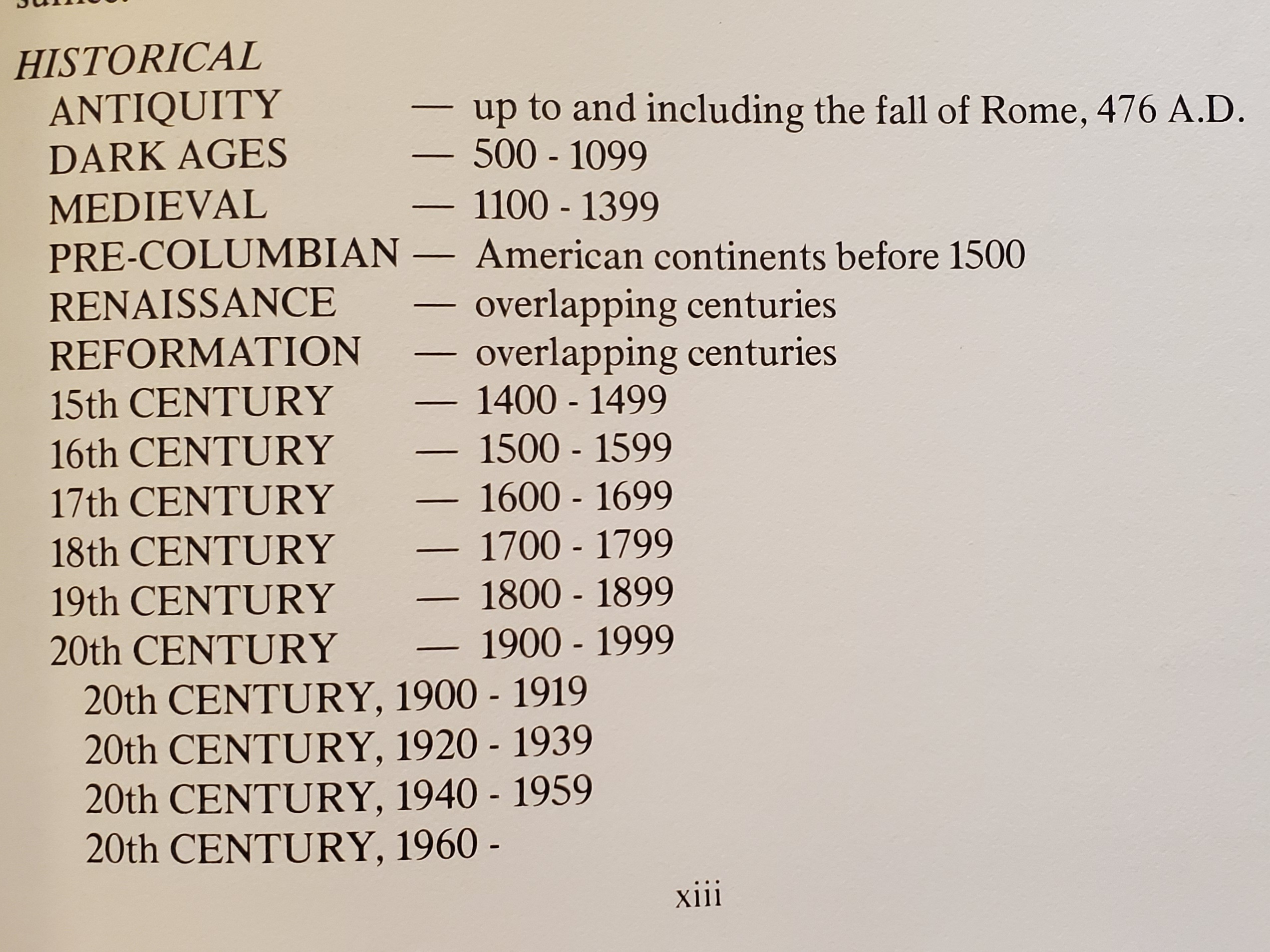 (Image Description: a page from SNT's intro showing the western-centric and limited time periods available for use.)
After reviewing about a half dozen of them, the one that seemed the most useful but not overly complicated basic, and would plug easily into IUB's systems was the MARC List for Geographic Areas.
This is available here:
http://id.loc.gov/vocabulary/geographicAreas.html